40 Years of Members & Memories at the Monroe County Y
Our Monroe County YMCA and local professional artist, Adam Long, have teamed up to create a beautiful mural of our Southeast Y that members of the Y and the Monroe County community have a chance to be a part of! Adam is using his incredible talent to paint a 4' x 8' mural to honor our Y and the wonderful people who have supported us for the past 40 years. From January 25 through February 3, we're hosting an online auction in which you can bid on a space for yourself, your loved ones, your vehicle, or your pet to be immortalized, painted into the art piece. Winning bidders will also receive a small print of the completed mural to proudly display in their homes or offices!
Take a look at the mural map below to get a better idea of where and how you can incorporate yourself and your loved ones into the art piece—click on the image to enlarge it.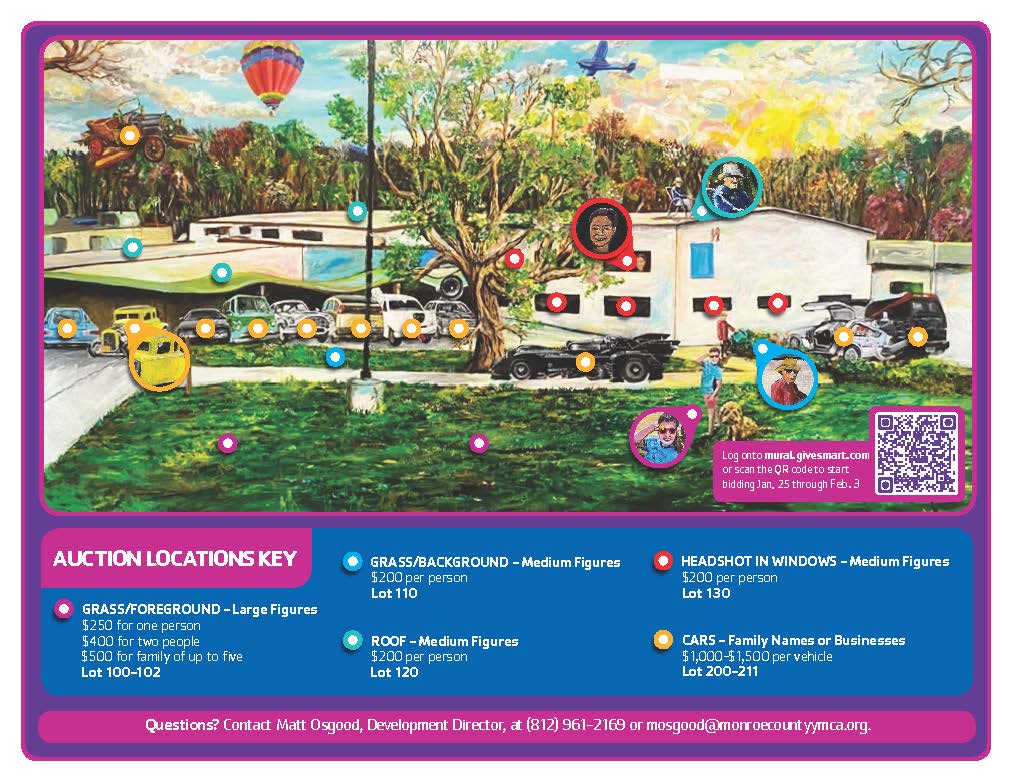 This collaborative project aims to raise funds for two great community initiatives: our Y for All Scholarship Fund, which provides financial assistance to those in need of support to access Y memberships and programs, and Adam's Best Day Ever project in partnership with Make a Wish Foundation, Children's Organ Transplant Association, and other non-profits. Visit mural.givesmart.com to start bidding Jan. 25 through Feb. 3.
For 40 years, our Y has been a pillar for those with a focus on health and community in Monroe County. This mural is a celebration of our past and a salute to our future, and we'd love for you to be a part of it! Learn more about our upcoming collaboration from Adam Long and Matt Osgood, Development Director: