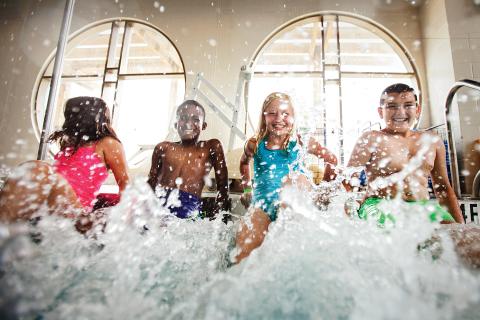 Swim Lessons
Swim Lessons teach kids safety in and around water!
---
Swim Lessons
Here at the Y, we know that a child who learns how to swim builds confidence with every stroke. YMCA swim lesson participants not only learn proper technique and safety skills, but they also develop the foundation that will enable them to enjoy aquatic activities throughout their lives. This is a progressive program that gives each participant a solid foundation to build a lifelong love of aquatic wellness activities.
Swimming is a fun and enjoyable activity for children and adults alike, and it's an easy way to stay physically active and improve strength, flexibility, and stamina. In addition to learning lifesaving water safety skills, children can increase their physical activity by swimming. YMCAs around the world have been teaching kids and teens how to swim for over 150 years! From beginner classes to advanced classes and swim teams, the Y is a great teacher.
Register for Swim Lessons Swim Lessons Levels Breakdown
To help determine what class best suits your child's needs, browse our classes and times based on branches below. Please don't hesitate to contact us with questions so we can help you find the perfect class for your child!
Please note: pods are limited to four participants, and instructors are required to wear face masks except when giving skill demonstrations.
Membership
Join the Y family for a healthier, happier life!
---
We're waiving Joiner Fees from Dec. 31-Jan. 25—you could save up to $100 when you join or rejoin!
Membership
One membership. Two great locations!
We are one Y with three great facilities. In addition to the Southeast and Northwest branches, the Y Auxiliary Center, originally built in 2012 as our Gymnastics Center, was recently converted into an area to host select Y programs in response to the COVID-19 situation. Your Y membership gives you full access to both branches and many other unbeatable benefits!
Wish to cancel your membership?
Please send an email to memberservices@monroecountyymca.org.
Giving
Give today for a stronger community tomorrow!
---
Giving



Together, We Can Achieve So Much More
The Y is here to give everyone in our community an opportunity to learn, grow, and thrive. When you give to the Y, your gift will have a meaningful, enduring impact right in your own neighborhood. Because the Y impacts lives in a variety of ways, we have different funds that allow you to designate how your gift will affect the community.
Thank You!
Thank you to our highest level of donors, our Founders. We could not help the Monroe County community without their continued support!
Did You Know?
Your donation could send a child to camp, allow a senior to rehabilitate from a life-changing illness or injury, or give a family a place to grow and thrive together. See how every donation can help change lives:

To learn more about each fund and how you can support our mission, click on the bubbles below: