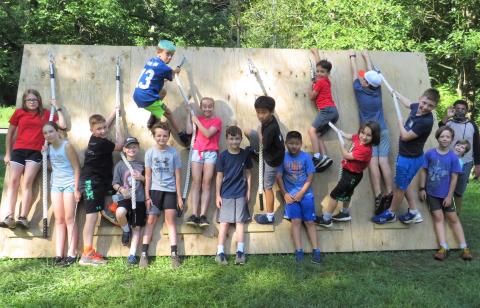 Summer Camp
Become a happy camper this summer at our YMCA!
---
Summer Camp
As of April 29, 2021, we are only accepting registrations for our Summer Camp waitlists as all available spots are currently filled. We strongly encourage you to still register your camper in case spots become available throughout the summer, such as if families' plans change and have to cancel their registration. We will contact you if a spot becomes available. We apologize for any inconvenience this may cause and thank you for your patience!
---
Summer Camp is so much more than fun in the sun. At the Y, we provide an exciting and safe community for young people to explore the outdoors, build self-esteem, develop interpersonal skills, make lasting friendships, and more.
Our counselors are wonderful role models, selected based on their experience, attitude, interpersonal skills, and enthusiasm. They genuinely care about the individual development of each camper and every counselor will serve as a guide to live and work together as a community throughout the summer. All staff are CPR and First Aid certified and are additionally trained in risk management, child abuse prevention, behavior management, character development, and team building.
Each week of camp will have a unique theme with corresponding games, activities, and crafts. Campers can look forward to enjoying something new every week at the Y!
---
Explore our Summer Camp information below:
Membership
Join the Y family for a healthier, happier life!
---
Membership
One membership, three locations!
We are one Y with three great facilities. In addition to the Southeast and Northwest branches, the Y Auxiliary Center, originally built in 2012 as our Gymnastics Center, was recently converted into an area to host select Y programs in response to the COVID-19 pandemic. Your Y membership gives you full access to both Y branches and many other unbeatable benefits outlined below!
Before you visit our Y for the first time, please review our code of conduct. In order to promote a safe and welcoming environment for our members and guests, we ask all individuals visiting our Monroe County Y to act appropriately while exhibiting the character values of caring, honesty, respect, and responsibility.
---
Benefits of Being a Y Member:
Giving
Give today for a stronger community tomorrow!
---
Giving



Together, We Can Achieve So Much More
The Y is here to give everyone in our community an opportunity to learn, grow, and thrive. When you give to the Y, your gift will have a meaningful, enduring impact right in your own neighborhood. Because the Y impacts lives in a variety of ways, we have different funds that allow you to designate how your gift will affect the community.

Thank You!
Thank you to our highest level of donors, our Founders. We could not help the Monroe County community without their continued support!
Did You Know?
Your donation could send a child to Summer Camp, allow a senior to rehabilitate from a life-changing illness or injury, or give a family a place to grow and thrive together. See how every donation helps change lives:

---
To learn more about each fund and how you can support our mission, click on the bubbles below: