Personal Training
The YMCA offers the opportunity to work with a certified fitness professional who is educated, caring, and committed to helping you reach your goals. Each of our trainers possess the knowledge, skills, and abilities required to design a safe and effective exercise program for your specific needs and expectations such as:

• Enhancing overall well-being in the following realms: cardiovascular, strength, flexibility, and endurance
• Specific training methods, including: endurance events, such as triathlon training, sports-specific, and functional movements, balance training and injury prevention, weight management, and overall health and wellness.
• Management of body weight through accountability and consistency with a personal workout plan
Complimentary Consultation
A one-time consultation with a personal trainer is complimentary for all members. This consultation will include a discussion with a trainer about your wellness goals, concerns, and ideas for creating your personal plan. We offer a variety of training packages which include 30- or 60-minute sessions for one month, three months, or six months. Group packages are available as well. Please pick up a form at the Welcome Center to get started today.

Please note:
• You must be a member to sign up for personal training.
• All sessions must be used within the month(s) purchased.
• Payment plans available for three and six month packages.
• One month packages must be paid in-full at time of activation.
• Cancellations incur a $15 service fee.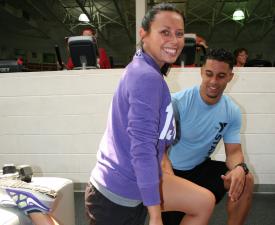 Personal Fitness Programs